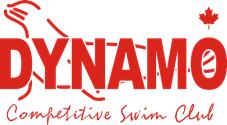 DYNAMO SWIM TEAM
Our team is a year-round competitive swim team offering high quality professional coaching and technique instruction for all ages and abilities. The goal of our team is to provide every member an opportunity to improve swimming skills and achieve success at his or her level of ability, from novice to international competitor.
All of our coaches, as members of the Canadian Swimming Coaches Association, have access to the most comprehensive training and certification program for youth coaches of any sport in Canada and United States. They provide assurances that the time children spend in swimming will be quality time.
We are a non-profit club, is run by its elected Board of Directors which meets each month. All members are welcome at each meeting and encouraged to be involved in team activities and fundraise.
DYNAMO SWIM SCHOOL
At Dynamo Swim School we are teaching SWIM LESSONS FOR ALL AGES AND SKILL LEVELS.
A World Class Program
WE WILL TEACH YOU TO SWIM ALL 4 STROKES, STARTS AND TURNS
Our swim practices operate to the highest possible standards to ensure that your child will develop through the various progressive stages at the appropriate level and acquire the essential aquatic skills that remain for life.
Invest in Swimming for:
SAFETY ~ be sure that your child will be safe in and around water: in the pool, by the river, at the seaside.
FUN ~ Enjoy family fun, games in the pool and lots of water sports.
FITNESS ~ Swimming is universally recognized as the most effective way of improving all round body fitness without fear of injury.